The Manhasset Chamber decorates Plandome Road throughout the year.
Starting with flowers in the spring and continuing with flowering baskets and planters under the Adopt-A-Pole/Planter campaign for the summer. In autumn, cornstalks adorn Plandome Road representing the harvest season continuing with greens and red bows adorning the poles for the holiday season. With your help, we can make Manhasset more attractive and inviting for residents and visitors to shop locally and support downtown businesses.
We invite businesses and residents to Join the Chamber and become involved. Your investment as a business is $100, nonprofit is $65, individuals are $65 and shopping mall is $300. Beautify Manhasset non-voting member is $45 and a residential donation is $25.
Adopt-A-Pole and Adopt-A-Planter Sponsorships are now available CLICK HERE.
---
Manhasset Chamber News
October 2021
M
T
W
T
F
S
S
1
2
3
4
5
6
7
8
9
10
11
12
13
14
15
16
17
18
19
20
21
22
23
24
25
26
27
28
29
30
31
Manhasset Co-Presidents sit down with Councilwoman Veronica Lurvey — Watch Now!
Click on Map Below to View an Interactive Map of Manhasset: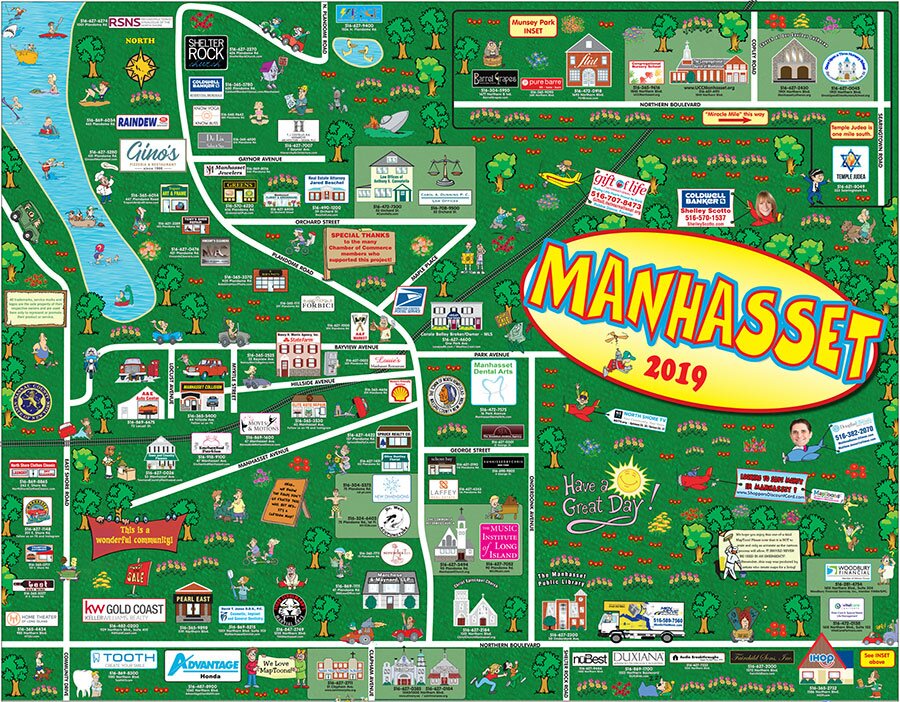 View Our Membership Directory
Support the Manhasset Chamber Merchants
Membership Directory
The Chamber's Membership Directory promotes our local merchants.
Join the Manhasset Chamber of Commerce
Benefit from Chamber Membership
Join the Chamber Now
Benefit from the many positive, business-building activities that the Chamber provides.
Spotlight on
Manhasset
Learn About Everything Manhasset Offers
Spotlight on Manhasset
From Recreation to World-Class Shopping, Manhasset has it all!
Manhasset: Experience Our Rich History and Proud Tradition
In 2005, a Wall Street Journal article ranked Manhasset as the best town for raising a family in the New York metropolitan area.
The Manhasset area, settled by 1680, grew quickly after it began being served by the Long Island Rail Road in 1898. The LIRR provides access to New York City via the Manhasset and Plandome stations with an approximately 40-minute commute to Penn Station. The hamlet of Manhasset is located 19.5 miles (29.2 km) away from midtown Manhattan.